Odisha Repair Service center offers AC Remote Control Repair Service in Bhubaneswar. Book online for Air Conditioning Repair, AC installation, AC Gas filling- AC Repair Service Centre in Bhubaneswar Call Now : 9979592479 / 7540821942
If your air conditioning unit is not responding to the remote, we recommend you follow these steps before you book a diagnostic callout.
In most circumstances, it's usually the remote and 9 times out of 10, you'll be able to fix it on the spot. So before you get up out of your blanket burrito and start tinkering with the system, here are some simple ways to troubleshoot your AC remote.
Check the remote
First, check if the display on the remote is working by seeing if you can read the information on it. If not, a simple fix of a battery change will likely solve your issue. To remove the batteries from a split system remote control, simply slide the remote panel down to reveal the other buttons. When it stops, give it an extra tug to slide the panel off completely. The battery compartment will be exposed. Check that the metal components are not corroded and replace the batteries. Double-check the user manual to ensure you are using the correct batteries and also remember to inspect the remote to make sure you insert them the right way round.
If you have another remote in the house that you use for another same brand split air conditioner, you can try it on the unit that's not working. If the air conditioner responds to this remote, you know that the other one is faulty and needs to be replaced.
The next step is to check the LED light on the top of the remote control. The LED light is responsible for sending signals to the sensor on the interface of the air conditioner unit. If you've dropped the remote control, the LED could have detached from other internal components. You will need an infrared sensor card to check if the remote control sends out a signal correctly from the LED.
Another consideration is your proximity to the unit. The remote needs to be within ten metres of the unit to function, and there cannot be furniture or other objects blocking the path of the sensor on the surface of the unit. Clean the sensors to ensure there isn't any grime on them that's interfering either. Another common cause of remote control damage is moisture. Exposure to a spilled drink or other liquids can cause your remote control to stop working.
Check the unit
Another approach to check if your remote is working is to rule out the fact that the unit is responsible for the malfunction. To do so, press the buttons you'll find towards the bottom right side of the unit manually to see if they work. If they do, but do not respond to the remote, you can assume the signal from the remote is not reaching the unit or is not being recognised.
Perform a reboot of the system
If you've ruled out that the remote is faulty, reset the system by turning it off at the main power, and leaving it off for about 30 minutes. If the problem persists once you have turned the power on again, we recommend you book a service so a technician can run a diagnostic check of the system. We may discover that the board inside the indoor unit is not talking to the remote anymore and needs to be replaced. We will also test the remote to see if it is faulty.
You can extend the life of your handheld remote control by ensuring it's stored in the wall holder that was provided when the system was installed. When replacing a remote control, we recommend you invest in a brand model rather than a generic alternative. Universal remotes may give you the essential functions but are unlikely to offer the full range of features. Faulty (but not damaged) remotes are covered as part of your air conditioner warranty.
Aircon remote not working?
Follow the steps detailed above to confirm your remote, not the aircon system, is at fault. We offer a range of replacement remote controls for air conditioners in our store. You can check the model number (ARC) on the back of the remote. As always it's best to give us a call and we'll come out and assist if you can't get the unit working.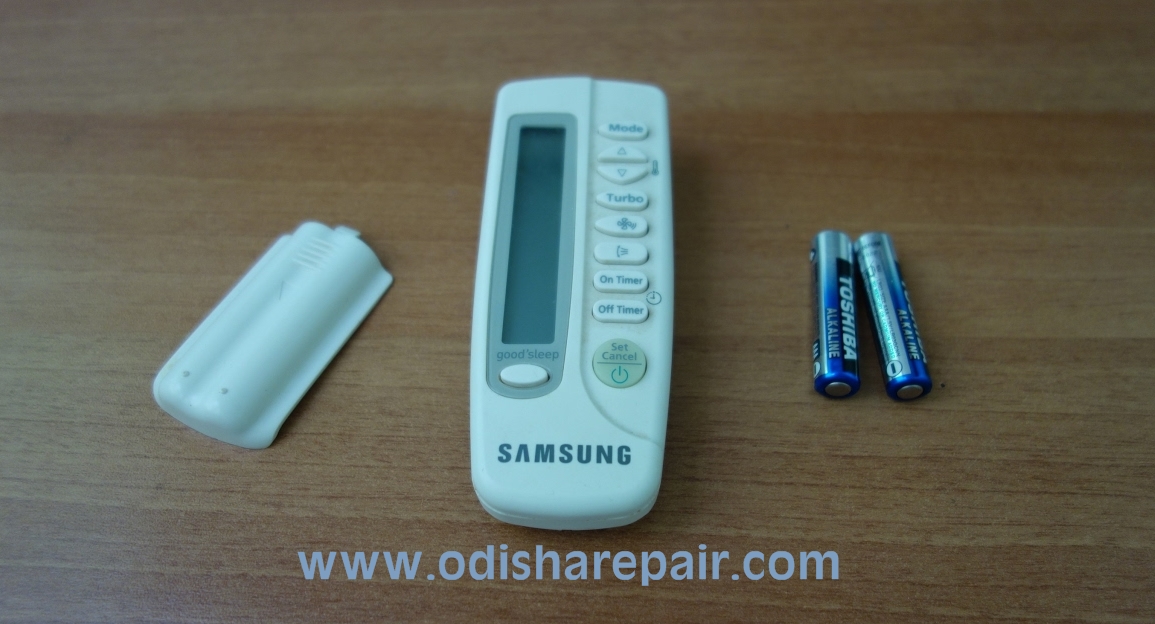 How do I fix my AC remote?
10 mins to read 10 minutes
Step 1: Test Your Remote With Digital Camera
Check your batteries first or buy new batteries. Once you have good batteries, you can test with a digital camera by pushing the buttons and having camera on and pointing to the infrared led. You should see red light if the remote is working. If no light comes up you obviously have a dead remote but do not despair and proceed to the next step.
Step 2: Open the Remote Control But There Is a Catch or a Few Catches.
Remove the screws if any. Sometimes screws may be hidden under a sticker or rubber feet. Often there are no screws at all but just plastic catches hidden so you have to be clever to open it without breaking the case. Use something blunt and flat toclick the covers open. This is often a challenge but should not be too difficult.
Step 3: Take a Picture of Every Phase So You Remember How to Re-assemble
Since you are using a digital camera you might as well take pictures of the disassembly so re-assemly will be easier.
Step 4: Pull Everything Apart
Did you take a picture of the keyppad layout? Sometimes keypad is just one rubber membrane but sometimes the keys fall away like pieces of a Lego puzzle. And if the buttons are marked with numbers and functions you may struggle to re-assemble them in right order?
Use a small plastic takeaway box or similar to store the bits so you don't lose parts.
Step 5: Inspect the Circuit Board and Repair Dry Joints
Remotes are often dropped on the floor and may develop dry joints on the battery contacts or circuit board. Inspect the contacts and circuit board under good light with a magnifying lenses or if lucky you might have a microscope or just a very good eyesight? Solder all suspicious joints. If there is a sign of water damage you can use methyl spirits and toothbrush to clean out the circuit board.
Sometimes I have washed the circuit board with soapy warm water, good rinse after that and drying with a hair dryer. I would not recommend the same treatment for you cellphone as some components do not like water.
Step 6: Wash the Covers and the Buttons
Use a small bowl or similar to wash and contain all the parts so you don't lose bits down the drain. Use old toothbrush to clean all button holes and buttons. Warm water with dish wash liquid does the job. Take particular care with those small buttons and clean them properly. If you can leave the bits to soak overnight they come clean easy. Ultrasonic cleaner would be good for this job but most people do not have one in their cupboard.
Step 7: Rinse, Drain and Dry the Parts
Rinse with warm water. Use a drainer to contain all the parts without losing small bits down the drain. As extra security use sink plug. Dry with a paper towel. Wipe the buttons dry individually as they may still have some dirt which makes them sticky when in use.
Step 8: Repair Case and Re-assemble
If there is damage to the case or buttons you need to do the required repairs. Use hot glue or super glue depending on fault. Let dry overnight if you had to glue something.
Re-assemble bits in reverse order and make sure you have the buttons in right place and right way around. Small nicks and dents on plastic cover can often be repaired by heating carefully with a hair dryer. Do not use a lighter with a flame as it is too easy to burn the plastic. May be you can get rid of some dog bite marks on the remote if they are not too deep?
In case of lost fallen out IR LED you can use second hand LED out of other remote you no longer use or buy one from Electronics hobbyist supplier. Make sure you get the polarity right or you need to get another one.
Step 9: Test With Digital Camera
Test every button as before. Sometimes you have to push two remote buttons simultaneously as with recording buttons on my Panasonic VCR.
Once you have completed test with your camera you can use the remote. That's it, hope you got it going again?
---
Frequently Asked Questions Related to AC Remote Repair
Why is my AC remote not working?
First, try replacing the batteries in the remote control. If installing fresh batteries doesn't solve the problem and you can still operate the air conditioner manually, the remote control might be defective. If you think the remote control is defective, replace it.
How do I fix my AC remote display?
Insert new batteries make sure that the batteries polarities are checked properly refix the battery cover into original position check the remote whether the display is on after pressing.
How do I turn on my AC if the remote is not working?
However if AC remote control doesn't work what you need to do in that case is keep your finger on the on and off button. And just hold it there for about five to ten seconds.
Can we use Android phone as AC remote?
You can control anything with just a single tap on your mobile screen! … Or, you can make it smart with a smart AC controller or thermostat for ductless Air conditioners!
How can I control my AC temperature without a remote?
If you have an IR on your phone, you can always find on google play store app to control the AC without remote. The cellphone I have is with this option and covers range of electronic appliances which need remote. So MI Remote is the tool to go remote-less literally any where.
How much does an AC remote cost?
AC remote price is depending on the model and brand of the Air Conditioning. The price usually starts from Rs.599/- to Rs.1899/-
What do the symbols on an air conditioner remote mean?
Common Air Conditioning Setting Symbols
The first is the universal symbol that means "Turn on or turn off the machine", while the Plus and Minus buttons raise or lower ambient temperature. Any snow flake symbol means that the A/C unit will run in Cold mode (i.e. throw out cool air).
---
Search Tags:
ac remote repair shop near me, ac remote repair near me, how to repair ac remote sensor, voltas ac remote repair, how to repair ac remote control display, is ac remote repairable, ac remote not working, ac remote display not working, voltas ac remote original, universal ac remote, ac remote control online, ac remote control shop near me, ac remote app, voltas ac remote app, universal ac remote price, ac remote shop near me, ac remote repair shop near me, ac remote shop near me, ac remote near me, panasonic ac remote shop near me, AC Repair, Fix AC, AC Troubleshoot, AC Remote Repair in Bhubaneswar, AC remote not working, Bhubaneswar AC Repair, LG AC Remote Repair, Samsung AC Remote Repair, Haier AC Remote Repair, Toshiba AC Remote Repair, Panasonic AC Remote Repair, Mitsubishi AC Remote Repair, OGeneral AC Remote Repair, Toshiba AC Remote Repair, Onida AC Remote Repair, Hitachi AC Remote Repair, AC Compressor Repair, AC Not Cooling, AC Gas Filling, HVAC Technician Near Me, AC Mechanic Near Me in Bhubaneswar, AC Repiar in Sailashree Vihar Bhubaneswar, AC Repair in Saheed Nagar Bhubaneswar, AC Repair in Bapuji Nagar Bhubaneswar, AC Repair in Kalpana Area of Bhubaneswar, AC Repair Near me in Jagamara of Bhubaneswar, AC Repair in Patia Bhubaneswar, Best AC Service Centre Near Me, AC Service Centre
---