AC Remote Repair in Bhubaneswar Book online for Air Conditioning Repair, AC installation, AC Gas filling- Call Now: 9979592479 AC Remote Repair in Bhubaneswar
If your air conditioning unit is not responding to the remote, we recommend you follow these steps before you book a diagnostic callout.
AC remote not working?
Follow the steps detailed above to confirm your remote, not the aircon system, is at fault. We offer a range of replacement remote controls for air conditioners in our store. You can check the model number (ARC) on the back of the remote. As always it's best to give us a call and we'll come out and assist if you can't get the unit working.
How to Repair AC Remote:
Sometimes Air Conditioning Remote are not working or some buttons work and Some does not work. You may try to solve this Problem at home on your own. Follow the steps listed below –
Step 1:
Change your AC remote cell or battery and check again if still not working then open the remote cover with it's screws.
Step 2:
Check if there is cell or battery attached, or there may be some rust so your remote isn't working. You should clean the rust and check again
Step 4:
Wash remote PCB kit with CTC or Petrol and smooch smoothly by teeth brush and check again.
Also Listed In
AC Repair & Services
AC Installation Services
AC Gas Refilling Services
AC Repair & Services-Hitachi
Window AC Repair & Services
AC Uninstallation Services
Split AC Repair & Services
Split AC Installation Services
AC Remote Control Repair & Services
Split AC Repair & Services-Hitachi
Window AC Repair & Services-Hitachi
AC Remote Control Repair & Services-Hitachi
AC REpairing services in Bhubaneswar & Cuttack – Odisha Repair
---
Search Tags:
ac remote repair shop near me, ac remote repair near me, how to repair ac remote sensor, voltas ac remote repair, how to repair ac remote control display, is ac remote repairable, ac remote not working, ac remote display not working, voltas ac remote original, universal ac remote, ac remote control online, ac remote control shop near me, ac remote app, voltas ac remote app, universal ac remote price, ac remote shop near me, ac remote repair shop near me, ac remote shop near me, ac remote near me, panasonic ac remote shop near me
---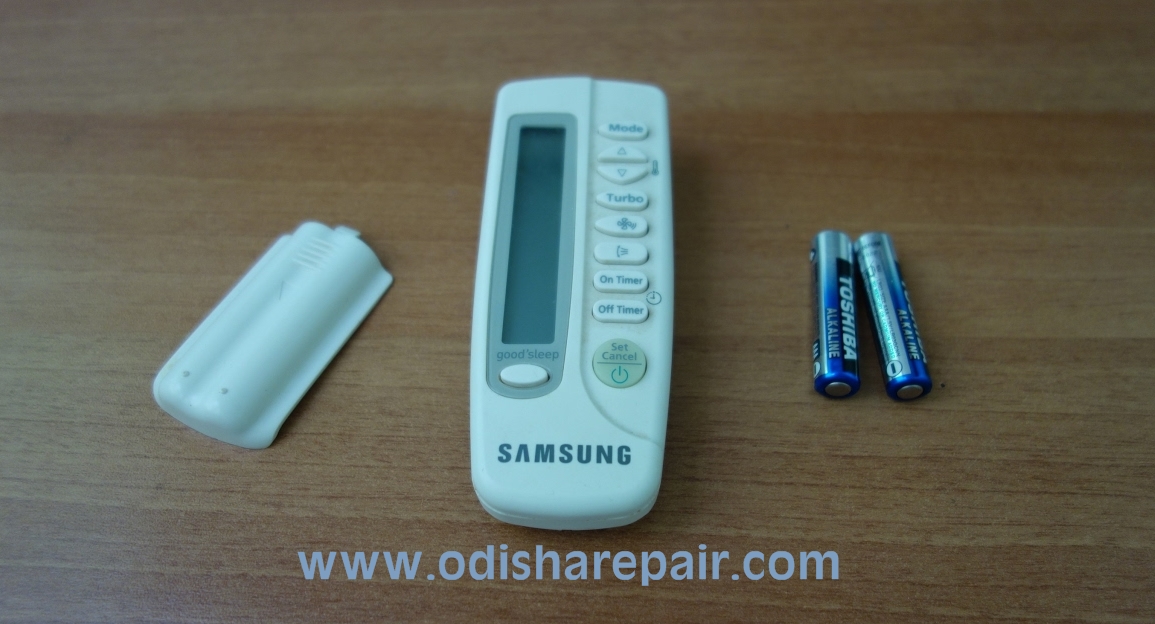 How to set cooling mode?
1 min to read 1 minute
Press the power button of the remote controller to turn on the air conditioner.
Press [Mode] button to set the operating mode
Each time you press the [Mode] button, the mode will change in order of Auto, Cool, Dry, Fan and Heat. The second function is cooling mode.
---
Frequently Asked Questions Related to AC Remote Repair
Why is my AC remote not working?
First, try replacing the batteries in the remote control. If installing fresh batteries doesn't solve the problem and you can still operate the air conditioner manually, the remote control might be defective. If you think the remote control is defective, replace it.
How do I reset my AC remote?
Remove the batteries from your AC remote. And re-enter okay then check your air conditioner turn on / off and it will work as a reset for your air conditioner remote.
Can we switch on AC without remote?
People often turn off with breakers instead of using remote. Because this way is simple, large halls will be easy to lose control. If you only use air conditioning at a certain temperature at home, you should install a separate circuit breaker in the room just to turn off the air conditioner.
Can we alter AC remote with smartphone?
Controlling your air conditioner with your phone is a no-brainier in today's era of smart technology. You can control anything with just a single tap on your mobile screen! … Or, you can make it smart with a smart AC controller or thermostat for ductless Air conditioners!
How can I control my AC temperature without a remote?
If you have an IR on your phone, you can always find on google play store app to control the AC without remote. The cellphone I have is with this option and covers range of electronic appliances which need remote. So MI Remote is the tool to go remote-less literally any where.
How much does an AC remote cost?
AC remote price is depending on the model and brand of the Air Conditioning. The price usually starts from Rs.599/- to Rs.1899/-
What do the symbols on an air conditioner remote mean?
Common Air Conditioning Setting Symbols
The first is the universal symbol that means "Turn on or turn off the machine", while the Plus and Minus buttons raise or lower ambient temperature. Any snow flake symbol means that the A/C unit will run in Cold mode (i.e. throw out cool air).
Other Brand AC Services that you might interested in:
Samsung AC Service Center Near me
Voltas AC Service Center Near Me
O General AC Service Center Near me
Blue Star AC Service Center Near me
Carrier AC Service Center Near me
Hitachi AC Service Center Near me
Daikin AC Service Center Near me
Godrej AC Service Center Near me
Panasonic AC Service Center Near me
Onida AC Service Center Near me
Carrier AC Repair in Bhubaneswar
Blue Star AC Repair in Bhubaneswar
Lloyd AC Service Center in Bhubaneswar
O General AC Repair in Bhubaneswar
Daikin AC Repair Service in Bhubaneswar
Godrej AC Repair Service in Bhubaneswar
Hitachi AC Repair Service in Bhubaneswar
LG AC Repair Service in Bhubaneswar
Voltas AC Repair Service in Bhubaneswar
Samsung AC Repair Service in Bhubaneswar
Panasonic AC Repair Service in Bhubaneswar
Onida AC Repair Service in Bhubaneswar